High-Efficiency Furnace & Boiler Installation in Greater Naugatuck, CT
Furnace and Boiler Installations from Your Favorite Local Experts
We offer the highest efficiency equipment on the market which is designed to reduce carbon emissions and create a cleaner environment here in Connecticut. The heating oil industry as a whole is constantly working toward net-zero carbon emissions, and high-efficiency equipment and Bioheat® fuel oil are significant steps toward that goal.
Our home heating equipment boasts a higher fuel efficiency rating. That means that for every Bioheat dollar you spend with J&A Waterville Oil Service, you'll get more home heating value than you would with our competitors. Along with more fuel savings in your pocket, high-efficiency home heating equipment produces fewer, cleaner emissions into the air, helping promote a healthier environment for future generations.
Would you like to upgrade or replace the current oil-fired heating system in your Connecticut home? Our HVAC technicians and home comfort consultants are fully trained professionals and would love to help! We understand the engineering requirements necessary to properly execute sizing, configuration, control, and technology to meet your specific HVAC equipment requirements.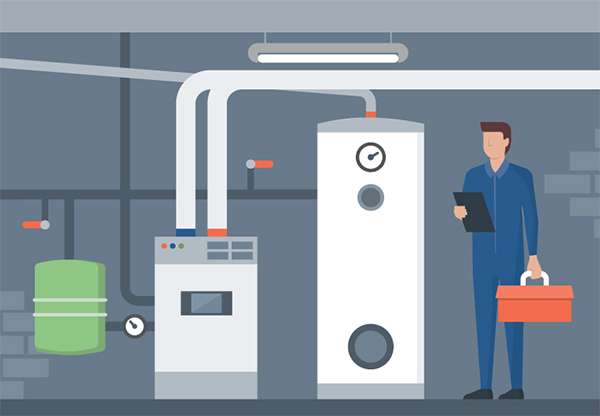 LOG IN TO REQUEST INSTALL
Your One-Stop Shop for Everything Home Comfort
We're prepared to handle everything from a simple replacement of your existing Bioheat oil furnace or boiler, through complete central heating systems designed from the basement to the top floor, including warm air and hot water baseboard. We can also help you with your domestic hot water needs.
Our consultation and estimates are always free. Our goal is to help educate and inform our customers, in this way you get all the information you need to make the decision that will best support your specific home heating objective. In the end, you will have the right heating equipment to meet your needs efficiently, safely, and with years of comfort moving forward. Our heating equipment installations will be at the best possible price for you – our valued customer.
GET A FREE QUOTE
Benefits of a High-Efficiency Heating Upgrade
Our goal is to help you save money on home comfort—and that includes having a highly efficient Bioheat oil furnace or boiler! Systems that are 15 years or older have significantly lower efficiency ratings, meaning you're spending more on biofuel for the same heat you'd get with a new system. Besides, upgrading to a new system will give you all these outstanding perks.
Perks to Upgrading:
Better biofuel efficiency, more savings in your pocket, and fewer environmental emissions
Reduced need for repairs
Lessened risk of emergency breakdowns
Total peace of mind
Increased investment in your home
More even, thorough heating
What are you waiting for? Contact us today for a free quote or log into your account to request service today!