Bioheat® Oil-Fired Heating Tune-Ups & Repairs in Connecticut
J&A Waterville Oil Service provides top quality home comfort services in the Lower Naugatuck Valley. Our qualified technicians are trained to perform top-notch services including complete HVAC maintenance, residential boiler and Bioheat-fired furnace repairs and tune-ups, along with competitive biofuel oil prices and biofuel delivery to Connecticut towns such as Naugatuck, Bethany, Oxford, and Ansonia.
If you'd like to schedule service, log into your account and request an appointment today!
SCHEDULE SERVICE TODAY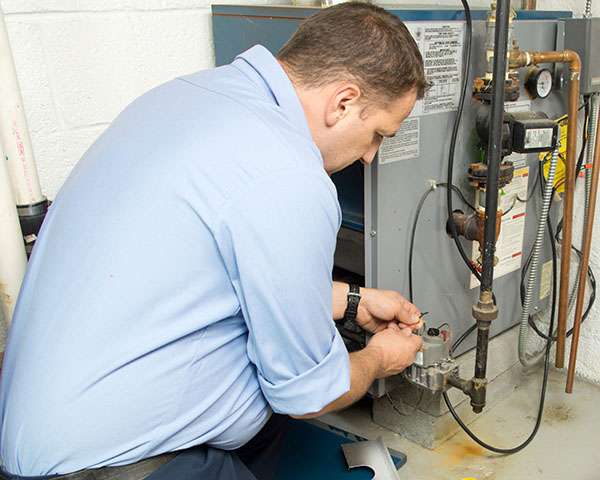 The Benefits of Annual Tune-Ups for Bioheat Oil Heating Systems
Furnace and boiler tune-ups aren't just a suggestion—they're critical to ensure that your home heating system continues to run smoothly, safely, and efficiently as it ages. Our expert techs are trained to perform a cleaning, efficiency boost, and safety check when tuning up your system. Simply request an appointment today with our experts!
You'll benefit from:
Save up to 10% in annual biofuel usage
Boost your heating equipment's efficiency and safety
Extend your heating equipment's lifespan
Reduce your risk of no-heat emergencies and unnecessary stress
Our tune-ups include:
Test and regulate all burner and safety controls
Clean or replace Bioheat strainers
Replace nozzle
Check and adjust ignition system
Vacuum furnace/boiler and smoke pipe to chimney
Check and lubricate motors
Replace Bioheat filter cartridge
Inspect combustion chamber
Adjust heating unit to maximum efficiency
Perform an efficiency combustion test
Remember! When you schedule your heating equipment maintenance at the same time as your Bioheat oil delivery, you will receive a discounted rate! Contact us for more details.
CONTACT US
Reliable Heating System Equipment Repairs in CT
Has your heating system slowly been declining in efficiency? Does biofuel oil cost you more these days? Is your furnace or boiler not heating all rooms evenly? Has it stopped working altogether?
J&A Waterville Oil Service can help! We employ an insured, qualified team of energy experts who are trained to perform repairs on any residential biofuel-fired furnace or boiler. All you have to do is schedule your appointment and we'll take care of the rest.
SCHEDULE SERVICE
24/7/365 Emergency Heating Service
If you're experiencing an emergency, make sure to give us a call. Phone is the fastest way to reach us for a no-heat emergency at any time of the day or night; we are available to you 24/7/365.