Efficiency Service Plan for Air Conditioners in Connecticut Homes
Protect your investment in your home cooling system. Like caring for your high-efficiency Bioheat oil-fired furnace or boiler, signing up for a service plan is the best way to guard against inefficiency and unexpected system breakdowns. Besides, the annual tune-ups and system service included in our A/C service plan will extend the lifespan of your CT cooling equipment and help you spend less on utilities each and every year.
SIGN UP FOR A SERVICE PLAN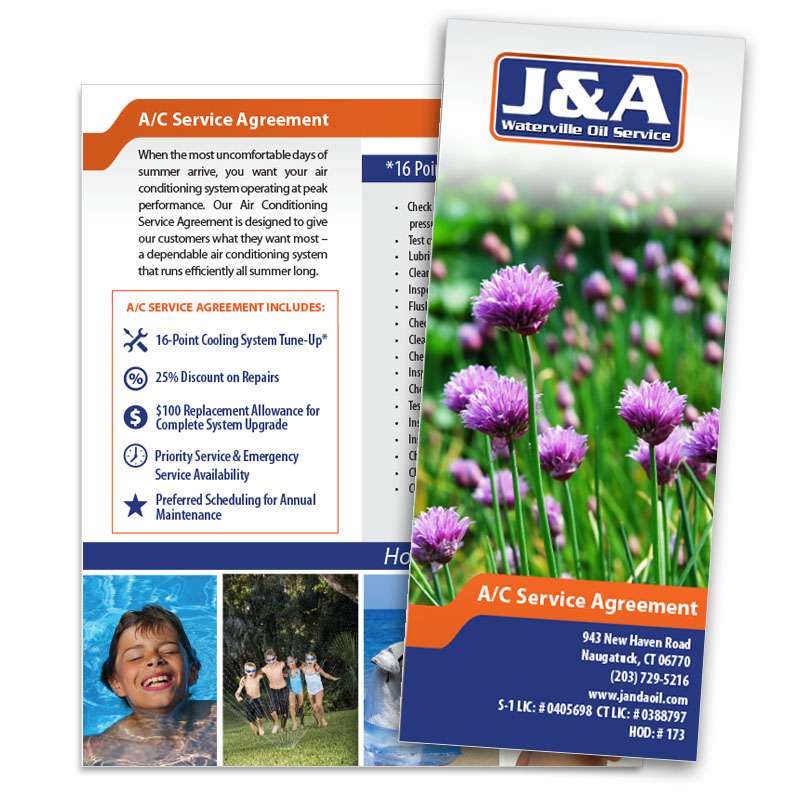 Our Service Plan Includes:
16-Point Cooling System Tune-Up: Your annual tune-up will boost your energy efficiency, helping you save all summer long on electricity bills.
25% Discount on Repairs: Your A/C will inevitably need repairs eventually. Get a significant discount on any service you need with our service plan.
$100 Replacement Allowance for Complete System Upgrade: Considering installing a new, high-efficiency A/C model to benefit from better cooling and increased home value? We'll give all service plan customers a $100 replacement credit toward their new A/C.
Preferred Scheduling for Annual Maintenance: You'll get first priority when scheduling your annual A/C efficiency tune-up. Simply log in to your account to schedule your tune-up. 
Priority Service & Emergency Service Availability: J&A Waterville Oil Service does whatever it takes to keep your home and family safe and comfortable, and that includes 24/7/365 emergency service for your home heating and air conditioning systems. If you have an emergency, please feel free to call us anytime.
What are you waiting for? Contact us to sign up for the A/C service plan today and start saving on maximum home comfort and protection for your central or ductless air conditioning unit.
SIGN UP TODAY
16-Point A/C Tune-Up
Wondering what you'll get with your annual efficiency tune-up? Here's a comprehensive list of everything we check and replace when it comes to inspecting your air conditioning system each year. If you have any questions, don't forget that you can contact us online at any time, or even give us a call to speak to someone right away.
Check refrigerant charge and measure operating pressures and temperature
Test compressor operating voltage and amperage
Lubricate and check motors
Clean or replace 1" air filters as necessary
Inspect and adjust fan belts
Flush and clean condensate drain
Check electrical connections
Clean and check thermostat
Check controls and safety switches
Check blower wheel and bearings
Test pressure cutout switches
Inspect crankcase heater
Inspect condenser coil
Check condenser blade and motor bearings
Check condenser electrical disconnect switch
Inspect and clean evaporator coil if necessary
Even if you don't want to sign up for an A/C service plan, we still recommend that every A/C customer gets their unit tuned up at least once a year. This important preventative maintenance will help your system run smoothly and safely. To schedule an A/C tune-up, log into your account and request an appointment.
BOOK A TUNE-UP
Terms & Conditions
To view the general conditions and exclusions to our air conditioning service plan, click below to view the complete service plan.
VIEW SERVICE PLAN